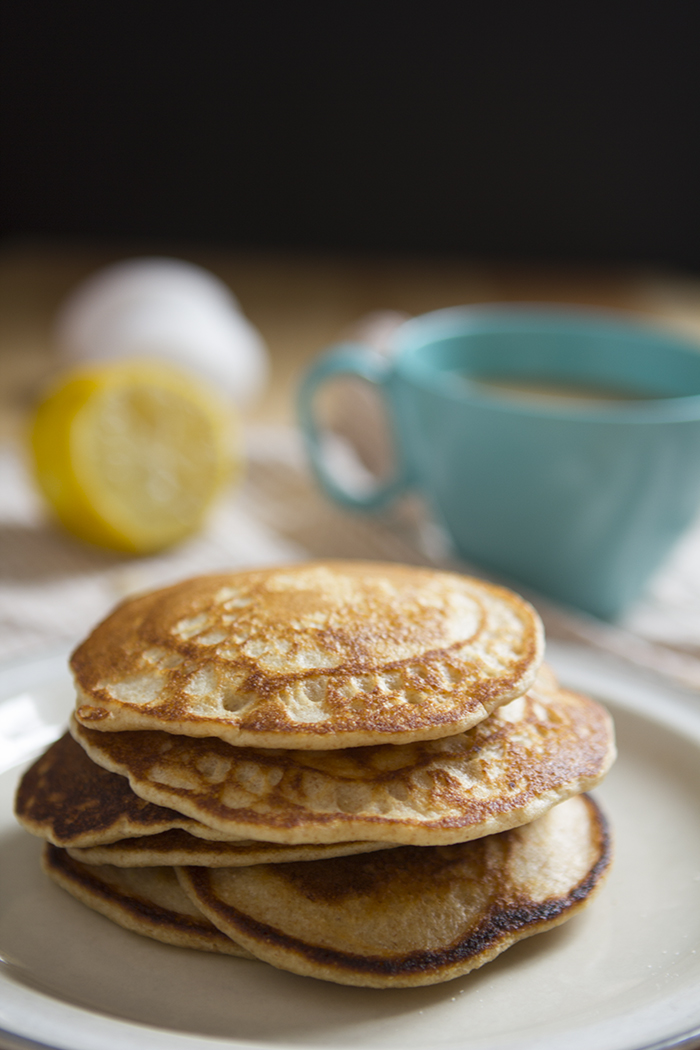 I made these pancakes a few weeks ago. I had lemons and that was all the excuse I needed to make pancakes for breakfast. I think pancakes are perfect for any meal.
Years ago for the St Patrick's day parade, Matt and I had friends over to his apartment and we made green pancakes and coffee and baileys for everyone. One of his friends taught me how to cook a perfect pancake and I have never forgotten those tricks. And I make a mean pancake.
Keep your burner at medium heat. The whole time.

When the pancakes start to bubble along the outer edges, it means it's time to flip it over. Don't cook it as long on the other side, just another minute or so.
---
LEMON WHOLE WHEAT PANCAKES
[serves 2 // unless you are really hungry - then find a second person who's under the age of 5]
Ingredients
3/4 cup….. Milk/Soymilk/Almond Milk
2 large…… Eggs
3 tsp……… Grated Lemon zest
2 tbsp……. Lemon Juice

[put a little more]

1 tsp……… Vanilla Extract
2 tbsp……. Coconut oil (melted)
3/4 cup….. Whole wheat flour
1 tsp……… Baking powder
1/2 tsp…… Raw sugar
A pinch…… Salt
Maple Syrup
Instructions
Mix eggs, milk, vanilla, lemon juice and lemon zest together in a bowl. Add melted coconut oil and mix well.
Sift flour, baking powder, sugar and salt into a large bowl. Make a well in the center of the  flour mixture and pour in the wet mixture gradually and mix until the dry ingredients are moistened. Don't overmix.
Melt a small portion of coconut oil in a heated non-stick frying pan on medium heat.  Place 2 tbsp [a medium sized blob] of the batter into the pan. [If you are feeling extra brave, try more than one at a time! If this is your virgin voyage into pancake land, slow and steady wins the race. Give your kid the cold ones] Cook until the pancakes start bubbling on the outer edges. Flip over and continue to cook for a short time. Transfer to a plate and keep warm while cooking remaining batter. [Alternative: spread butter or margarine on pancake and eat with hands while expertly cooking the rest one handed]
Cover with maple syrup and enjoy! Damn I'm hungry now.
---